ALL EMPLOYMENT OPPORTUNITIES CANCELLED FOR SUMMER 2020
Covid-19 (commonly referred to "coronavirus") is a highly contagious respiratory virus has been diagnosed in all of the states along the Appalachian Trail, including Maine. Due to the high risk of spreading this illness in group settings the Maine Appalachian Trail Club has made the tough decision to discontinue the Maine Trail Crew, in 2020, to keep our staff and volunteers safe. We are concerned about the risk of spreading the virus when crew members travel together in vans, share housing, food, tools and privies. This is disappointing for MATC as an organization and for our many dedicated volunteers. Thank you for understanding. Please consider volunteering with the Maine Trail Crew in 2021.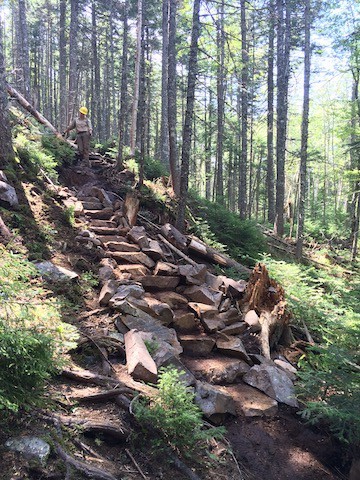 2020 Summer/Fall Positions
ALL POSITIONS ARE CANCELLED DUE TO COVID
The MATC is a volunteer, not-for-profit, public service organization responsible for management,
Put your passion for the Appalachian Trail to work!
Apply for summer trail crew jobs in Maine and make friendships that will last a lifetime.
To Apply: Submit a letter, resume and references by email (indicate which position you are applying for in the subject line) to matcjobs@matc.org.
Preference will be given to those applying by 1/31/20. MATC is an Equal Opportunity Employer.
Appalachian Trail Ridgerunner Positions
(5/16 -10/18 – $14-$16/hour )
Responsibilities
Meet, greet, register and educate hikers on the Appalachian Trail.
Impart Leave No Trace knowledge, skills and ethics to hikers focusing on youth groups and long distance backpackers, for example: where to camp, how to protect water sources, how to minimize fire impacts, etc.
Provide education about rare alpine plants and stewardship on summits and ridgelines.
Manage and provide light maintenance at campsites.
Some backpacking and camping gear will be provided, as well as off –day housing assistance. Sorry, no pets allowed.
Learn more here.
Qualifications:
Background in Leave No Trace knowledge, skills and ethics.
Desire and comfort with primitive, solitary, outdoor living and working conditions, including all types weather.
Good physical condition – able to hike with a 40 lb. backpack.
Public/customer service skills, professional appearance and attitude.
Good communication skills (including oral, by phone, and written).
Wiliness to work in unfavorable weather conditions.
Personal transportation is required to get to assigned trail head.
Long-distance hiking experience.
Maine Trail Crew Field Coordinator
(4/15 10/15 – $19.50/hour)
Responsibilities
Coordinate multiple trail crews working on the Appalachian Trail in Maine.
Teach trail skills to program staff and volunteers
Join the Team Leaders and crews at project sites to provide oversight
Make inventories of trail conditions and submit reports
Qualifications:
Two or more seasons working on New England trails
Experience with outdoor leadership
Ability to monitor progress, quality and quantity of the trail work being done by two crews in different locations
Familiar with computers, Excel spreadsheets and MS Word
Ability to teach trail skills
Experience building stone structures and using Griphoist equipment
Valid driver's license and clean driving record
Ability to take responsibility for maintaining safety standards
Ability to motivate and work with people of all ages and backgrounds
Comfortable working without direct supervision
Other Maine Trail Crew Opportunities
5/16 – 8/22.
All Maine Trail Crewemployees, interns and volunteerswill receive group housing and meals.
Maine Trail Crew Leaders ($16.50/hr)
Assistant Leaders ($12/hr)
Responsibilities
Lead a volunteer crew on foot, over rough terrain and for long distances while carrying equipment in all types of weather.
Train crew members in trail design, construction, reconstruction, maintenance and back country camping.
Build stone steps, and waterbars, other erosion control structures,
Ensure safe and sanitary conditions at the camps and work sites, transport crews safely, and respond appropriately to emergency situations that may arise.
Follow the direction of designated supervisors with respect to duties, logistics, timetables and projects.
Advanced training with stone cutting, stone work, rigging systems and other trail work will be presented as well as training with first aid and leadership techniques.
Assistant Leaders will be responsible for assisting the Crew Leaders with the duties and responsibilities described above. They may have less experience, but generally should have the skills described for Crew Leaders. Assistant Leaders are encouraged to gain the skills and experience to become future Crew Leaders.
Qualifications:
One or more seasons of trail work experience
One or more seasons in an outdoor leadership role
Willingness to take responsibility for a volunteer trail crew
Ability to maintain records and photos of each week's project
Ability to teach trail skills
Previous experience building stone structures
Good health and physical fitness
Valid driver's license and clean driving record
Ability to maintain a safe and enjoyable work environment under challenging conditions
Ability to motivate and work with people of all ages and backgrounds
Comfortable working without direct supervision
Maine Trail Crew Camp Coordinator ($16.50/hour)
Support the operation of our volunteer trail crews by: planning and preparing meals and purchasing food
Maintain base camp facility
Recruit volunteers, assist with transportation and serve as host at Base Camp
Arrange leisure time opportunities
Participate at job sites on a limited basis.
Qualifications:
One season working in an outdoor recreation setting
Valid driver's license, clean driving record and personal vehicle
Ability to function as a team member
Ability to maintain accurate records and petty cash
Ability to work with people of all ages and backgrounds
Maine Trail Crew Interns($200/week living allowance)
Help out in many of the aspects of operating a volunteer trail crew.
Develop your professional background in trails and conservation.
Hike and camp on the beautiful Appalachian Trail.
Build works in stone that will to last for the ages.
Build skills in trail work, leadership, back country camping and more.
Qualifications:
Enthusiasm for working and living outdoors
Interest in building a career in the trail world
Ability to teach skills, motivate and support volunteer workers of all ages and backgrounds
Good health and physical fitness
Valid driver's license and clean driving record
Willing to develop both trail building and leadership skills