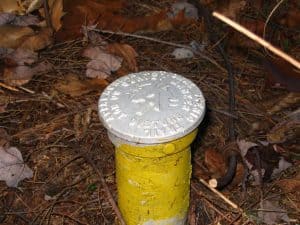 There are still some great opportunities for becoming involved in this exciting aspect of caring for the Appalachian Trail in Maine.  For information about corridor monitoring and field training sessions, visit the MATC website at www.matc.org or contact me (Dave Field) at 862-3674, meeser3@roadrunner.com.  You must participate in a field training session before an assignment will be made permanent.  If you are unable to join a group session, I will make arrangements to train you on your own section. Note: The mileages given for each section are the distances along the boundary lines on each side of the corridor that a corridor monitor would need to walk to cover that section. For assignments on State-owned land, there are no surveyed boundary lines and monitoring is generally done by walking along the A.T. and observing the surroundings.
Check out the MATC Corridor Monitoring web page.
Open Corridor Monitoring Assignment
Section 20. The Gulf Hagas Preserve. This very accessible section with 3.8 miles of boundary line is once more available for assignment.
Section 43. North Branch of Carrying Place Stream to Sandy Stream. This 6.8-mile section covers mostly flat terrain in the Carry Ponds area. Access is good over logging roads from the Long Falls Dam Road or from the east. The lines are old (1992) but some have been renewed by the previous monitor.
Section 48/49. Little Bigelow to the West Peak of Bigelow. All of this section is in the Bigelow Preserve and has no exterior corridor boundary lines. Beautiful scenery.
Section 61. Little Swift River Pond to Sabbath Day Pond Lean-to. This section has just become open. It is entirely on State-owned land, so there are no exterior corridor boundary lines. Monitoring is done by walking along the A.T. and looking for problems. 
Section 64. Bemis Stream Trail to Former Clearwater Brook Trail. This assignment involves 4.2 miles of surveyed boundary lines over rugged Elephant Mountain and along the sides of Bemis Mountain. It is very accessible from the southerly end if you can drive over a slightly rough gravel road and from the northerly end via a hike over the Bemis Stream Trail.
Section 65. Former Clearwater Brook Trail to South Arm Road.  This section begins at the bottom of the saddle between Old Blue and Elephant mountains, runs up over old blue and down into Black Brook Notch. Excellent access at the South Arm Road and an easy walk into the other end if you have a vehicle that can go over a slightly rough gravel road. The assignment includes 6.5 miles of surveyed  boundary lines.